Railings and Covers - Deck Builders Washington DC
The Trusted Deck Builders Washington DC Locals Rely On!
The Deck Builders Washington DC Locals Trust On!
You could have the most contemporary-styled deck and install the most sleek-looking flooring, but railings give the finishing touch to your deck. Indeed, your deck is incomplete without one. 
A well-designed railing adds to the aesthetic, polishes your outdoor living space, and depicts your style. What's more, it is also appropriate for safety purposes when enjoying a view outdoors. 
However, choosing the wrong railing will keep you from viewing the beauty surrounding your home. Therefore, you must select an appropriate railing type to reap outdoor living space benefits without compromising the style. 
Deck Builders Washington DC seeks to upgrade your lifestyle with professionally installed and skillfully crafted deck railings. A few popular options are listed below.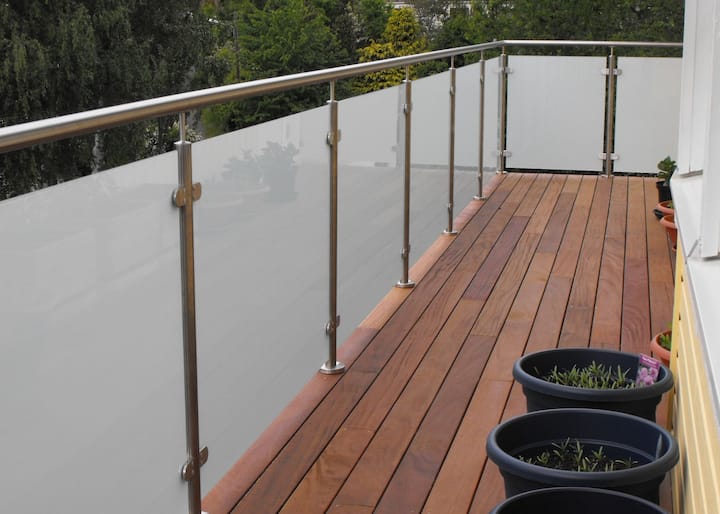 If you do not want the railing to obstruct the view, the glass deck railing is the way to go. Engineers typically install it with a rail frame or aluminum post, and the minimalist glass gives a modern and polished look.  You can keep your glass panels plane or go for a tint. Besides, decorative etchings are also an option for glass railings.  The only downside is that they require regular maintenance to retain their look.
The Chippendale railing features an X-shaped pattern. It includes a series of lines that meet in the middle to form an X. They fit pretty well on horizontal rails and offer a sleek and gorgeous look.  However, painting or staining the railing is challenging because of its intricate design.
If you're into cottage-style decks, a rustic railing can be your best bet. It gives an informal look and features roughly cut wood materials. You may find spots of natural wood in the railing.  However, this random design makes your home intriguing; it feels like you brought the wood straight from the wild.   You'll find numerous random rustic-styled railings on the market. So, you'll never run out of options. However, this railing type requires a careful installation to fit them seamlessly.  Also, the irregular design is challenging to paint. But, as long as you choose the experts, it'll be hassle-free.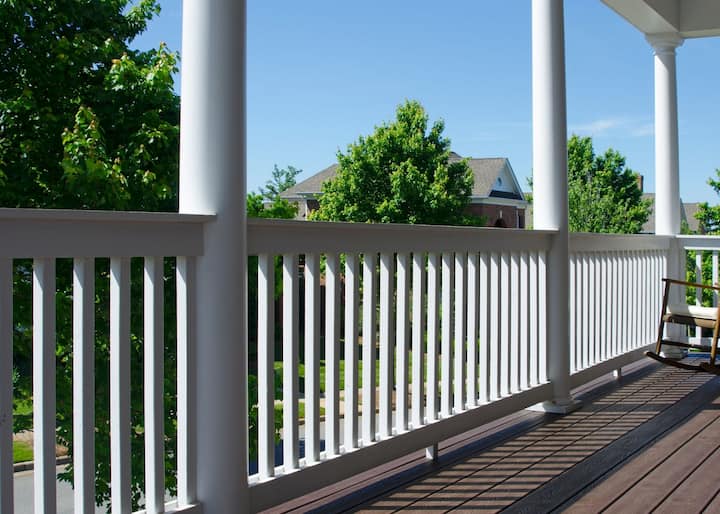 The Deck Builders Washington DC Locals Depend On!
Craftsman style includes a series of lines installed in a vertical pattern. They are typically adjacent to each other and may feature a few horizontal lines. Craftsman style is for you if you want a deck railing for a denser look without compromising the view. However, it may not be the next best design for your home as it gives off an unwelcoming jail-like feel. Also, maintenance is another issue.  Cleaning spots between the vertical lines is pretty challenging. 
A sawn baluster is another beautiful railing design that joints vertical panels with a cutout shape in the middle. This shape varies in style and design, and you can pick one according to your preferences.  The key, however, is to maintain the same shape throughout the railing.  Besides, you can also pick a color of your choice, but experts typically recommend opting for lighter shades. Why? Because it boosts the appearance of the sawn baluster railing, and a dark color makes its design less prominent.  Also, make sure you show extra caution when cleaning the railing. Its delicate design can wear pretty quickly. 
This design features a series of lines that meet in the middle, creating a fan-like look. The sunburst remains one of the most uncomplicated yet elaborate deck railing designs. It is appealing and inviting to look at, and you can customize it for a narrower or wider look.  However, cleaning the individual railing pieces is pretty challenging. So, if you tend to clean the outdoors only frequently, sunburst railing is not an option for you.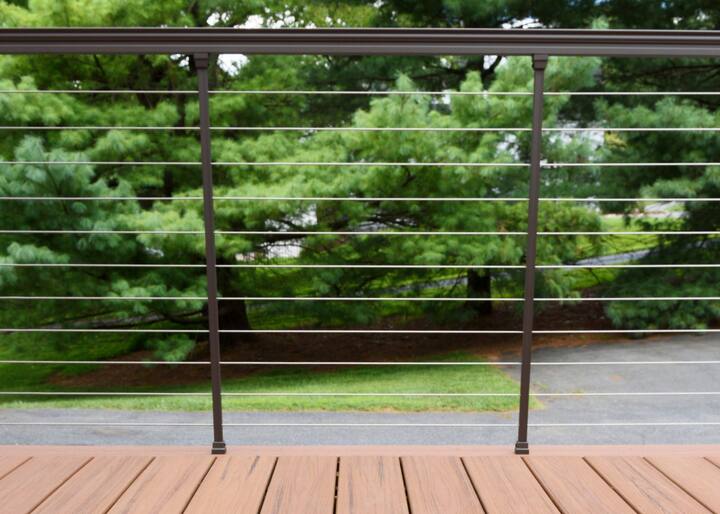 If you want to enjoy the scenic and picturesque views with an open design, a cable railing is the one to consider. Its horizontal cable arrangement gives it a distinctive look. You can combine it with a metal or wood frame for a contemporary or a traditional design. Because the cable is typically made with Marine Grade stainless steel, it stands the test of time and doesn't require maintenance. Also, they come in prefabricated kits, offering a hassle-free installation. 
Rope railing makes up for a maritime look. It features a series of woven fibers to create an elegant yet sleek design. You can install them on a metal or a wooden base. Besides, choose from numerous thickness levels. While you can go for a thicker rope railing, a moderate thickness is excellent for a stylish look.  Overall, the rope railing is a good choice, but it doesn't withstand harsh weather conditions. 
Metal railing involves installing cost-effective powder-coated aluminum, iron, or steel to make your deck sturdy and stylish. Railing engineers often combine it with a wood railing.  However, you can also install them on a matching metal frame if you like. Besides, you can pick from varying styles and colors to boost your property's exterior. Overall, metal railings have benefits for the most part.  Yes, they might not be the next luxurious railings for your deck, but they certainly enhance your home's beauty and are easier to maintain. Even more, they last for years to come and can endure harsh weather conditions.